lunch in Bellville. Go Beer!
And so the time came for the Big Ride. Saturday morning, way too early, saw me drop David off at the start to get Marshalling, then eat a good breakfast (steel-cut oats with pistachios, cranberries and maple syrup, thanks Honey) before Kevin arrived. We saddled up and got going on a pretty cold morning (40-ish but clear).
The weather forecast was about the best you could hope for - a bit chilly but a tail wind under clear skies. We began to feel the tail wind (and the steel-cut oats) pretty quickly, bowling along at 20+mph without any major effort.
We had joined the
St. Arnold Brewery
team again and were resplendent in our Pumpkinator jerseys, much admired by all. The St. Arnold's group isn't really a conventional team - we don't know most of our team-mates - but we found out early on that they have a slogan - "Go Beer!" - that you shout whenever you pass another team-mate, and they reply in kind.
Although we were held up for a bit behind a nasty-looking wreck, we still got into Bellville for lunch very early and had a good break. We hooked up with Tom, Kevin's long-time riding partner, who was riding with his 12 year-old son this time. They had started from Waller and were feeling pretty good, but with some rough sections ahead they were expecting to sag at least once, so we decided to go ahead separately.
Sure enough, the next section - Industry to Fayetteville - was a butt-kicker, even under perfect conditions. Either I hadn't trained enough or burned too much juice in the morning rush or both, but by the time we climbed Rek Hill I was blown. The run through Fayetteville was a boost as always - the entire town comes out and cheers - but I was definitely running on empty.
I got an accidental break when Kevin and I got separated in traffic. I was ahead but he didn't catch me and I was concerned he might have got into trouble, so I pulled over to wait. Meanwhile he thought he was in front and had lost me - so he stopped too! We both waited, then separately decided to ride to the next rest-stop. I got there first and Kevin pulled up just behind me.
the domestique wanted M&M's, he got jelly-beans
The last ten miles were tough, with some good rollers and (for the first time that day) a head-wind. I was very glad to make the final turn onto route 77 and run the last mile or so to the finish. Great fun coming down the chute, high-fiving all the spectators, then we found the St.Arnold's volunteer, who gave us a beer and told us how to get to the team tent.
I was feeling pretty bad, tired and a little nauseous, so I found my gear, assembled my cot and sleeping pad and lay down for a while. After about 20 minutes I was feeling well enough to get up, grab some snacks and another beer and sit with Kevin for a debrief. We were in mid-bullshit when Taylor appeared - a former co-worker at BHP and Mule, she jumped ship a while ago and was volunteering for the team.
With the beers done it was shower time. As a member of the 300 Club I get the use of an exclusive shower facility (hosted by the Texas Baptist Men, a disaster relief group), while poor Kevin had to wait in line with the peons. I chatted with another club member during the very short wait - his wife also has MS and is in a wheelchair. This disease sucks.
Back at the tent and another beer before dinner. The cooks had done some boudin to keep our stomachs quiet and I scarfed down a couple of chunks - hot, greasy, spicy and absolutely delicious. Kevin got back and then it was dinner time - brisket and smoked chicken tacos, wonderful post-ride food. While we stood in line I got chatting with another rider and his wife and they turned out to be the most interesting couple. We sat down with them to eat and had a lot of laughs. Chris and Berky showed up and joined the fun for a while.
Dinner done, and we had enough energy to wander through the camp. We watched the band for a while, then walked over to the Bluffs where I was finally able to get enough signal to phone Susan. And so to bed...
My cot and sleeping pad were surprisingly comfortable, and paired with Susan's super-duper silicon earplugs (wonder why she buys them? Maybe the birds and squirrels are very loud during her afternoon nap) they allowed me to sleep pretty well, if fitfully. I woke up before the 5am alarm, but not much.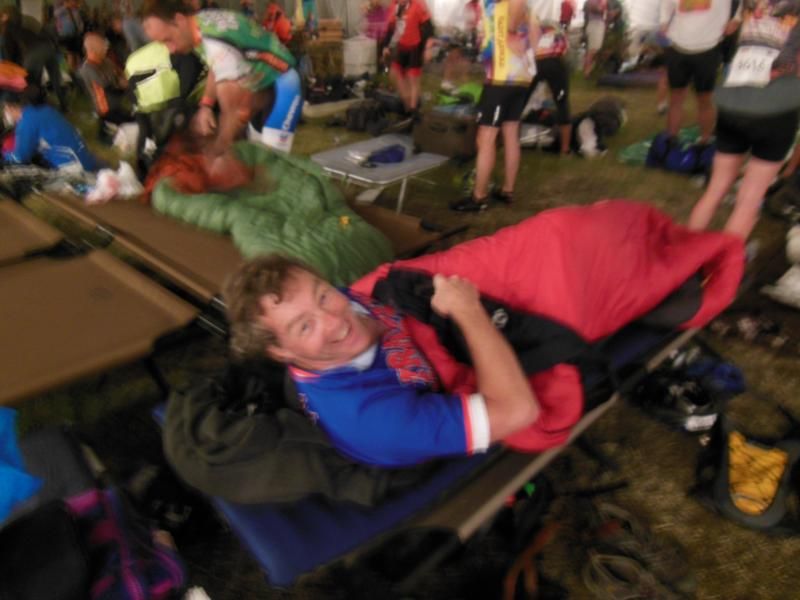 wriggle, wriggle, wriggle
St. Arnold's supplies a breakfast of kolaches, pigs-in-a-blanket and coffee, but we decided to treat ourselves to the pancakes cooked by volunteers for everyone. Fantastic but as usual my eyes were bigger than my belly. Time to get into the cycling gear and strike camp. Getting dressed was a little interesting, as there were no "modesty pods" available, so we had to squirm into our bike shorts inside our sleeping bags, as Kevin demonstrates in the pic.
Dressed, packed, bags on the truck, tires pumped up and time to get in line for the start. Fortunately it was at least 10 degrees warmer than yesterday morning and we were both comfortable without any extra gear. It took nearly an hour but we finally got rolling on another beautiful morning.
The route was pretty familiar - we start with a long descent and a series of shortish, sharpish climbs, one of which has the famous bagpiper (in full highland rig!) serenading us. The next section is mostly flat but pretty soon we got into serious rollers and then came - the Big Hill! The long, steep descent near Smithville is a feature of the ride and I was waiting to see how Kevin would fare on his sexy new Roubaix. I got a good start but ran into some traffic and had to hit the brakes a little. I topped out at 37mph and zipped past Kevin near the base of the hill.
A long run out and then into the Parks, for me the biggest physical challenge of the event. I was going ok but then managed to throw my chain by shifting too dramatically and had to stop and fix it. This of course happened halfway up a stiff climb and I had a hard time getting going. I plugged away, enjoying the new road surface, but gun-shy of my granny gear due to the chain-throw. This meant that I had to grind out a few sections, out of the saddle, grunting through every pedal stroke. I managed to get to the top without stopping every time but the extra exertion wore me down.
Into Bastrop State Park and I couldn't believe how much damage had been done by the wildfires. The route looked completely different, like a moonscape, not the lush woodland I remembered. I know that fires are part of the cycle for pine forests but I doubt it will look the same again while I'm still doing the ride.
I hooked up with Kevin (the master climber had dropped me like a bad habit, and the chain throw hadn't helped) and we ground out the last climb before starting the gentle run into Bastrop for lunch. I wasn't ready for food but I was certainly in need of a break. We got in touch with Tom, who had also just arrived (he started early with the Club 300 and took the shorter lunch express route) and strategized the last 30 miles into Austin, always a bit anti-climactic, for me anyway.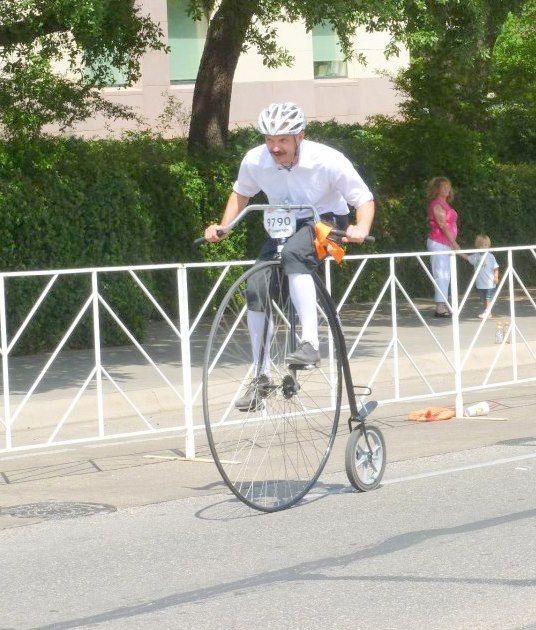 Thanks to my buddy Kevin Chang for this great shot
Tom and John had been rolling along at 12mph (10mph on climbs) and stopping at every break point. This sounded great to me - I was blown, my foot hurt and my shoulders were aching - and Kevin wanted to ride as a group, so off we went. I took the lead and tried to keep the pace down, but was surprised to see that when I crept up to 14-15mph, John hung in right behind me. What's more, he rode the downhills very strongly, and climbed like a champ, passing me on a couple of hills.
On one stretch we passed this eccentric (Kevin Chang got this shot at the finish). That might be the oddest thing I've ever seen on a bike. Didn't look very safe I have to say.
Soon enough we reached Austin and found ourselves on the final run down to the finish. We put John in the lead but I rode on his shoulder. All his family were there to cheer him in, a great sight. I rode down the chute near the crowd, high-fiving all the way (the best part of the ride for me), then it was through the finish line and done, thank goodness.
woo-hoo!
We gathered for one last hand-shake, then Kevin and I got beers and a box lunch at the tent, and I headed off for the VIP showers. A good long soak later, I jumped onto a bus to Houston. The trip took forever due to heavy traffic and construction and I didn't get in until 8pm. James collected me and I arrived to a hero's welcome and a fabulous curry dinner. That's number 10 done, and I passed $100,000 lifetime fundraising in the process. Time to think about number 11 - or maybe hang up my cleats?